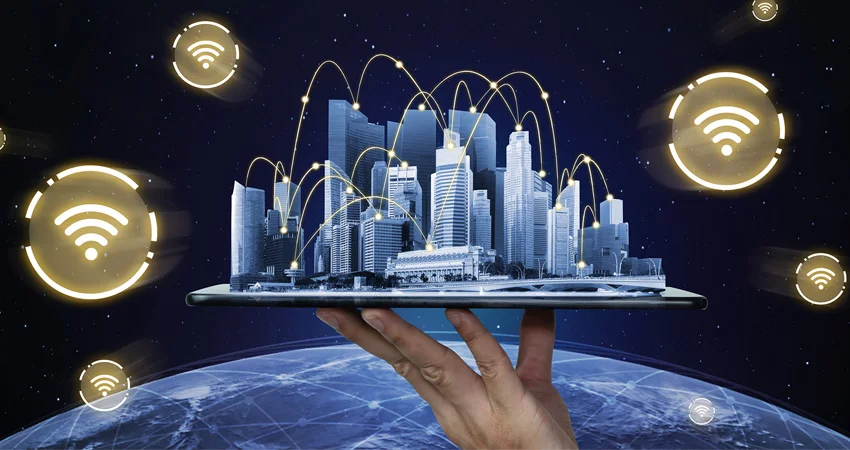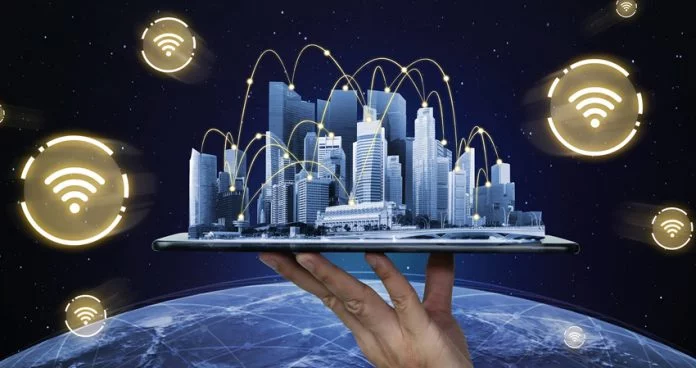 A smart city is not just smart by its name but by its nature. A smart city uses technology to develop its infrastructure and other services just to make sure that its citizens have a much more comfortable life.
The way we communicate is changing with the change in technology. A city cannot be considered smart unless it uses advanced technologies in its operations.
Augmented reality (AR) is known to be the interplay of data, graphics, audio, and other types of sensory enhancements which are presented in a real-world environment & that are displayed in real-time.
Augmented Reality (AR) technology certainly has the potential to play a huge part in smart cities.
Since augmented reality requires a lot of data at very high speed, it is estimated that more and more enhancements will be executed, once 5G becomes widespread.
In the hunt to transform cities into smart cities, the government of various cities, its engineers, the urban planners, and architects all are collaborating to make a city of the future.
For them, big data, AI. AR, IoT are some of the prominent technologies which can be used to cater to the needs of the citizens for their better lifestyle.
Augmented reality can be used in various domains in a smart city. It can be navigation, medical, education, traveling, planning, manufacturing, etc. Let us see some of them and how AR is useful in such domains.
Medical
AR can be used in medical practice, be it education or some medical training or surgery. To maintain the standard of living, there's a need to focus on the resident's well-being and health.
In today's world, citizens are getting aware of their health and are concerned to get regularly updated about their health.
For example, there's an application called Patient, which is designed by a medical company which deals with orthopedic situations.
This app allows the patients to know the condition of their knees while staying connected with the doctor.
Students who are pursuing their higher education in medicine can also practice surgeries in a controlled environment.
AR also helps in decreasing risks while doing operations as it guides the doctor while operating.
#Microsoft #HoloLens brings the #Human #anatomy into #MixedReality
HT @jblefevre60 via @MikeQuindazzi #innovation #Medical #Healthcare #Sante #Education #Formation #AR #VR #HealthTech #IoT #WearableTech #4iR #Video #futureofwork #Digital #numerique pic.twitter.com/jbh6Rbq7m2

— GOGLIN (@GOGLINJF) June 8, 2019
Disaster response is needed in case of a calamity that can occur at any time.
When a disaster occurs, responders should have clear cut information about what has happened and what all things can be done right to control the situation, i.e., they should possess excellent decision-making skills.
Disaster response is a complex process that requires immediate action and decision without having any complete information.
AR can be helpful here as it can use pre-stored details in case of any emergency and can help the responders to take necessary action and carry out relief operations.
Meet #HACKtheMACHINE team Navy311, using AR to consolidate data and improve disaster response. pic.twitter.com/Be0yP6AUDe

— Kelly Davis (@KellyDavisUF) September 24, 2017
Earthquake disaster response systems are already in use in several parts of the world, which can help in getting disaster relevant information to execute an action plan in the real-world environment.
There's also a wearable AR system which is known as SAFE (Smart Augmented Field for Emergency). This system helps the responders who are there for a rescue mission in the case of an emergency.
Navigation-based applications are widely used in urban areas as of today. The navigation apps help in finding the shortest possible way to get to our destination hassle-free.
AR can play the right role here. AR can use our smartphone app and can get a real-time view of where are we stuck.
The person needs to move his phone on to some other direction, and that's it, AR will show you the right way, so you can move ahead.
AR-based navigation is promising as it is using a real-time environment to show you the right direction.
Navigation App with #AugmentedReality |#AI #ArtificialIntelligence #IoT #InternetOfThings #Robotics #Robot #DigitalTransformation #TechTrends #Analytics #Automation #BigData #AR #VR #V irtualReality #Videos #RT

Cc: @kashthefuturist pic.twitter.com/ad5HSuYrZF

— Ronald van Loon (@Ronald_vanLoon) March 12, 2019
Augmented Reality (AR) can boost the tourism industry as well. AR can help in the construction of a new cultural site which is demolished over a period, which will help in boosting local tourism and can also help gather the information about that place.
Useful augmented reality for everyday usage using our AR platform Goopy – Augmented Reality: In one of Santo Domingo's touristic centers.#augmentedreality #ar #marketing #tourism #traveling #travelmarketing #travelindustry #useful #guides #santodomingo #dominicanrepublic pic.twitter.com/rWfcaZVTLj

— Goopy Augmented Reality (@goopyAR) May 21, 2019
Many museums around the world have started using AR-based guidance systems which are used to help the tourists by providing them relevant information about the place, appropriate orientations, and distance to that place.
With the development of mobile applications and advanced technologies, it has now been much more comfortable to provide information pertinent to the users and enhance their experience.
AR can be extremely useful for students. There can be images printed in the books in 3D… Just Imagine!!
This could change the course of researching and encourage more and more students to consider such things while developing their interest in a particular subject.
#AugmentedReality will change the way we learn, we educate and we teach in the future. #AR #VR #VirtualReality #Education #EdTech #EmergingTech https://t.co/PaO0b7Eeup

— Paula Piccard (@Paula_Piccard) August 7, 2019
For instance, students can see electromagnetic rays while studying about it. This can create curiosity among the students.
Also, nowadays, every student uses smartphones. With the help of a smartphone, a student can scan images from their textbooks and can see them at different angles and sizes.
Such an app is Elements 4D, which is developed by DAQRI studio and helps students to study chemistry.
AR, when combined with IoT, can help the engineers develop smart cities or the cities of the future.
AR can be useful in enhancing the public services of the city like smart drainage systems, streetlight control, waste management, rainwater harvesting, video surveillance, and also some freebies like public Wi-Fi.
Urban planning is also done with the help of AR, i.e., how many people it will accommodate, type of transportation to be used, building to be made, etc.
It can be a challenge to imagine how an art piece will flow throughout a space. So Pepper Indiana's virtual construction team utilized augmented reality to validate points and give artist Arlon Bayliss a virtual peek at his sculpture in @CircleCentre. #TechTuesday #NextTech pic.twitter.com/9lxsvOl73H

— Pepper Construction (@PepperConstruct) March 12, 2019
Conclusion
Augmented Reality (AR) is not the latest technology but is also not fully explored in a way it can be used to ease user's experience.
The development of smart cities has enabled the use of AR in it so that its citizens can use developed and smart services.
Recommended For You:
Applications and Benefits of Augmented Reality across various industries

Benefits of Augmented Reality based Google Maps for Business