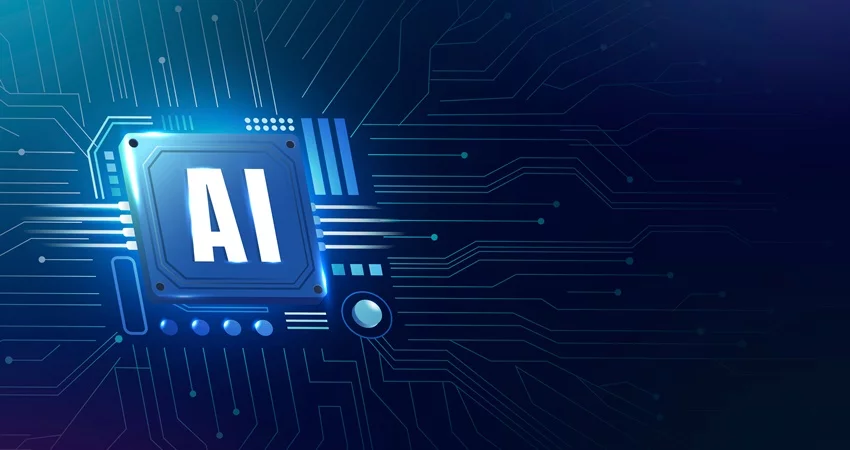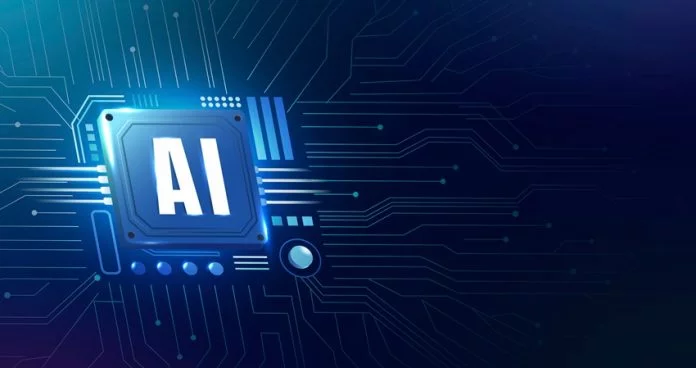 AI image generator is a tool that helps artists to explore new innovative ideas in their field. The best thing about the tool is that anyone can use it to create art, which may sometimes turn into NFTs as we know that Artificial intelligence is now used in various industries like businesses and healthcare. Now it also helps companies in creative areas like AI-generated art. With this new era of AI technology, anyone can use it and explore their knowledge. And this will help create a new generation of artists with the latest technology.
This article will study the ten best AI image generator tools, their features, pros, and cons. Also, we will learn how an AI art generator works. Hence, from these details, you will understand how eye-catching images are made with AI tools and how you can create an authentic look in the pictures.
AI image generator is a tool that helps to create artwork with the power of Artificial intelligence. Here you can start with an average photo and recreate it in the style you want. Also, VQGAN+CLIP helps you to make an image from a text prompt.
VQGAN+CLIP is based on an innovator CLIP architecture brought out through OpenAI. It converts text to images and refers to text to image model. Therefore, it generates ideas of various sizes with the help of prompt text.
Creating an Artificial intelligence image is an artwork built through AI software or tool. It focuses on the recreation of human intelligence and learning. Moreover, AI image generators produce different art forms into new innovative formats such as AI painting, AI music, and so on. Further, it has never-ending possibilities of such innovations that businesses can create with AI software.
A few companies like VanceAI photo made AI art tools easily accessible. These companies developed AI art tools that do not need more technical expertise. Hence, the new art from AI technology is trending; now, most businesses are using it daily.
There are many benefits of AI photo generators that we can get in large numbers. Here are some that we get:
Firstly, AI image generator helps in time-saving. It can make or recreate the artwork in a short period which automatically saves our time. Hence, it does not need human involvement at many levels and helps an individual with the image without knowing all the related skills.
Secondly, it helps to create realistic images by using AI artwork. With AI tools, we can make practical object-oriented art and portraits. Therefore, artists can use it to get help in their projects and can create complex artwork.
Thirdly, AI tools help in constructive artwork and can make images from text.
Lastly, AI image tool understands the image's color coding that perfectly matches the photo.
It can make artwork as per the imagination and memory for demanding features. Moreover, artists can take advantage of this tool as it offers various features and imaginative work theories to help make their clients happy.
Yes, AI can generate images with the help of various AI image generator tools. Companies that have created artificial intelligence models that produce visuals based on text include Google and OpenAI.
Images from the widely accessible DALL-E Mini tool have gained popularity on social media. There are moral and ethical questions concerning how the products will be used, much like with other AI technology.
Depending on factors or rules established by the programmer, the AI art generator creates unique graphics.
While some AI generators have more restrictions than others, most of them let you select the kind of artwork you wish to produce and the subject matter. For instance, Fotor allows you to submit an image and instantly transforms it into art.
Some AI art software allows you to choose from various preset shapes when creating a 3D model, which you can embellish with details. You can start with a blank canvas with other tools and manually add details. Hence, you can also choose image sizes, from tiny thumbnails to enormous posters.
Many AI image generators help individuals and businesses create or recreate an artwork. Here are the top 10 best AI image generators used in 2022: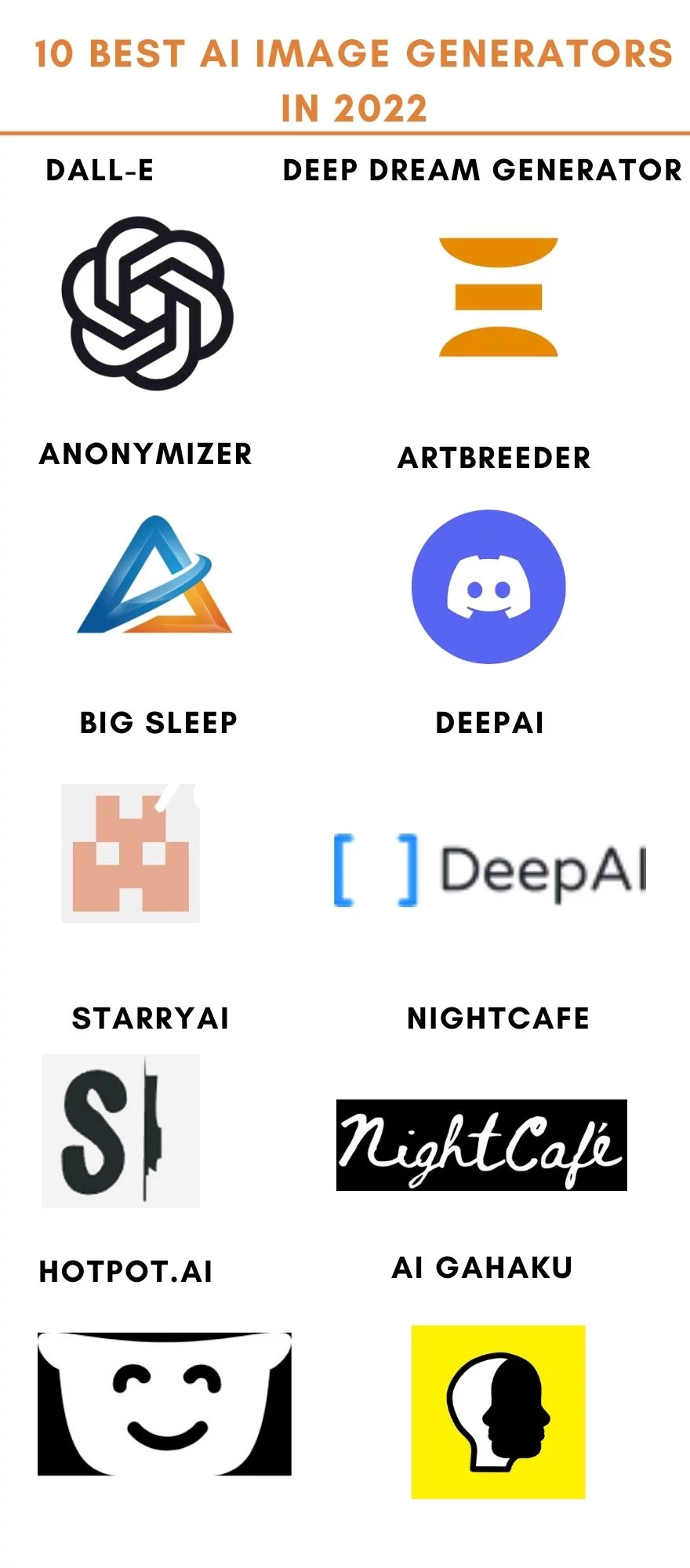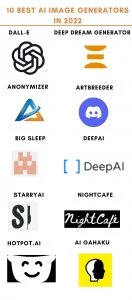 Dall-E
DALL-E, an AI picture generator created by OpenAI, is at the top of our list of 10 AI art generators. AI incredibly may produce realistic photos in a matter of minutes.
Therefore, the potential of DALL-E 2 is astounding. According to OpenAI, the tool may be used to design items, produce graphics, and develop fresh business concepts.
DALL-E 2's paintbrush, which lets you add elements to your image, including shadows, brightness, and more, is one of the most excellent tools. Further, using tools like the paintbrush, you may build complicated graphics with several layers, each with its characteristics.
As per the OpenAI, "DALL·E is a 12-billion parameter version of GPT-3 trained to generate images from text descriptions, using a dataset of text–image pairs. It has diverse capabilities, including creating anthropomorphized versions of animals and objects, combining unrelated concepts in plausible ways, rendering text, and applying transformations to existing images".
Features of Dall-E
The following are some of DALL-E 2's key features:
Dall-E helps to create highly realistic pictures in minutes.
Create illustrations
Design products
Easy-to-use interface
Customize multiple layers of image
Deep Dream Generator
Deep Dream Generator by Google is another of the best AI art generators. Therefore, it is an online service that enables you to use AI to produce realistic images, and it is one of the most well-liked AI art generators on the market.
A neural network that was trained using billions of photos underlies Deep Dream. Further, it is simple to use; all you have to do is submit an image, and the application will create a new image based on that.
Since Deep Dream uses several painting techniques to produce images that seem to be from various locations or eras, using it to make artwork is one of its primary uses.
Features of Deep Dream
Deep Dream creates realistic images with AI.
A neural network trained on millions of images
Different painting styles
Categories of images
Three separate styles
Anonymizer
Without being concerned about the security of your personal information, Anonymizer is a fantastic tool for making realistic photos. It allows you to work in privacy, which is a substantial advantage for anyone who wishes to protect their identity.
The software will produce an image for you that looks realistic whether you upload an existing photo or make one from scratch. Hence, you can use these look-alike images anywhere online where you don't want your true face to be exposed. You can generate as many pictures as you'd like for free.
Features of Anonymizer
The images produced with Anonymizer have the advantage of looking so much like a genuine item that it will be difficult for people to distinguish them from it.
It creates realistic images.
Anonymizer helps you to prevent cyberstalkers from targeting your IRL.
It is used to create an actual image from scratch.
Artbreeder
Artbreeder, a photo quality enhancer, is one of the most well-known names among AI image generators. By utilizing machine learning, the application enables you to create different variants of an image.
On a single platform, you may make sceneries, animation figures, portraits, and many other types of artwork. Further, one technique is the capacity to alter face traits, including skin tone, hair color, and eyes. Additionally, animated characters can be created from pictures.
Artbreeder provides tens of thousands of images and lets you organize them into folders is another standout feature. Following that, the outcomes can be exported in JPG or PNG files.
Features of Artbreeder
Image quality enhancer
Create various iterations of an image
It creates vistas, anime characters, and portraits
Maintain images in folders
Above all, it provide JPG and PNG formats
Big Sleep
Big Sleep is another AI picture generator that builds realistic graphics from the start. It is simple to use for anyone, just like other AI art generators. Moreover, with the Big Sleep tool, you can make one of the realistic photographs in a few simple steps.
Big Sleep is a Python-based program that generates images using a neural network. Therefore, the application outputs a photo after receiving input data. Therefore, a generative adversarial network is used to do this.
Features of Big Sleep
Realistic images from scratch
Easy-to-use
Based on Python
Utilizes GAN
DeepAI
DeepAI was established in 2016 to democratize AI through open-source software. Therefore, it provides a variety of tools that help you to produce lifelike visuals.
You can produce as many original photographs using DeepAI as you'd like. Thanks to its extensive customizability, it helps you alter the level of detail, colors, textures, and more. Therefore, if you type an illustration, it can produce a resolution-independent vector image.
Features of Deep
Open-source software
Various tools for creating realistic images
Change multiple details for each image
Create cartoons with CartoonGAN
NightCafe
Another well-known name in the field of AI art generators is NightCafe. Through its distinctive preset effects, including cosmic, oil painting, and more, it may produce a variety of artistic mediums.
In a very short time, you can produce an image using NightCafe. Therefore, the program is free to use (with certain restrictions), and if you want to purchase the AI-generated artwork, you may do so on their website.
Features of NightCafe
Unique preset effects
Create the image in minutes
Option to buy the art
Above all, print and deliver like a painting
StarryAI
You may create NFTs from art using StarryAI, an AI art generator. The user is not required to provide any input. A machine learning algorithm can use to process photos.
One of its most vital features is the ability to use the photographs produced by StarryAI for personal or commercial use. Further, its primary selling point is that it generates free NFT. Although technology is continually evolving, the program has already produced some fantastic works of art.
Features of StarryAI
Automatic image generator
No user input
Text-to-image
It acts as a free NFT generator
Hotpot.ai
A strong AI picture generator called Hotpot.ai can produce realistic images in seconds. Therefore, it is perfect for anyone wishing to have high-quality photos without prior knowledge because of its simple interface.
Hence, you can alter your photographs using its many editing capabilities, and it also lets you batch-generate many images at once. For instance, you can use it to produce realistic photos for your portfolio or product images for your eCommerce business.
Features of Hotpot.ai
Colorizing images and adding artificial intelligence to them
You can change photo backgrounds and restore old and scratched images.
The interface is modern and easy to use.
AI Gahaku
An online program called AI Gahaku helps to create artworks with AI technology. Moreover, you may instantly transform your images into magnificent oil paintings with this program.
To start with AI Gahaku, you just need to pick a photo with a human face from your gallery. Moreover, this AI artist will design a simple picture for you and then present you with ten possibilities with various paintings from which you can select.
Features of AI Gahaku
When you upload your selfie and the software analyses the image, you have ten distinct styling options.
Moreover, a selection of filters to add an "artistic" touch to your standard smartphone photos.
Artificial intelligence has become increasingly expert at producing art programs and can now create convincing "pictures" of people and locations that do not exist. Therefore, it turns out that the US Copyright Office will not provide copyright protection to those AI artworks in the US.
An application to copyright an AI-generated work of art was denied in a recent judgment made by the Copyright Office last week.
Conclusion
In conclusion, introducing potential AI tools that can produce realistic pictures significantly changes the design business. These tools help create spectacular images for various purposes and have many applications. The tools we discuss here will help elevate your work to the next level.
Also Read: