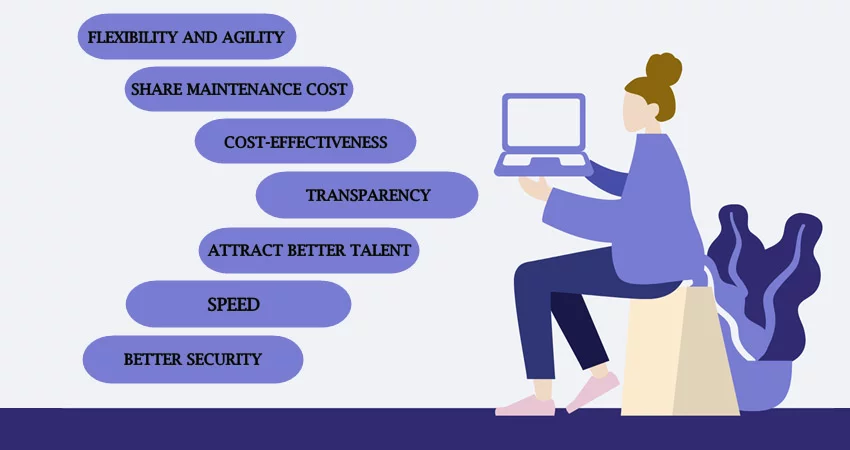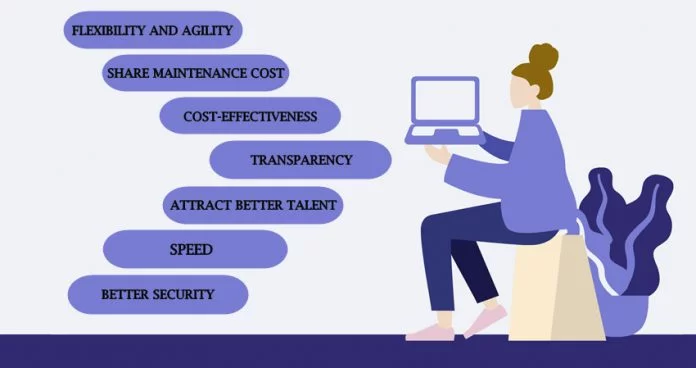 When people talk of OSS, the first thing that comes to mind is free software. This certainly can be the case, but OSS isn't always free of cost. In this blog, we will learn about the advantages and disadvantages of open-source software.
But, let us first understand what open source software means.
According to Economic Times, "A software for which the source code is made freely available and may be redistributed and modified according to the requirement of the user. Open-source software is when the source code or the base code is usually available for modification or enhancement by anyone for reusability and accessibility. Open source code is the part of the software that most users don't ever see. Anyone can manipulate and change a piece of software so that the program or application can work."
When businesses plan on opting for new technology, it means committing to solutions that will support an active, growing business for a long time. Hence, it requires careful consideration and planning.
The source code in OSS is readily available to the users. Under the 'copyleft" rule, new versions and products based on free software must be published under the same license as the original version. This helps businesses in many ways. According to the needs, they can edit, modify or share the source code. This potential comes from the license it is equipped with. The license permits the users to make changes in the software. Also, by removing barriers amidst innovators, open-source encourages a free exchange of ideas within a community to drive creative, scientific, and technologically advanced results.
Even though open-source software benefits businesses in many ways, it isn't always perfect. Just like other technologies, open-source software has advantages and disadvantages too.
Let us learn about the advantages and disadvantages of open-source software.
IT leaders must use software that provides flexibility and agility for businesses. Not having flexibility in the system can create security issues for many organizations. Not just this, it is equally important for companies to compete on the agility to maintain a good pace in the market.
Users in OSS do not encounter vendor lock-ins, which means that the users are not required to stick to the provider's demands. As open-source software emphasizes modification, even if there are irrelevant features or any unique problem, users can effectively implement new solutions without waiting for the vendor to address their concern.

A fundamental advantage of OSS is community involvement. These communities are committed to supporting and improving a solution with which both the companies and the community can benefit. You can also solve company-related problems of maintenance costs by sharing these costs with the community. The global communities can help in cost-sharing and sustaining applications.

Although open source solutions should be considered more than just free software, the fact that they need no licensing fees or low licensing fees remains a decisive advantage when planning on deploying a low-cost solution. Especially for businesses with a tight budget, opting for OSS can help in significant cost savings with no compromise in quality.

The source code is open and available to everyone in open source software, making it possible to understand the software's functionality. Open source code means that it allows its users full access to the code base. This helps organizations ensure that no undesired and hidden functions are built in the system that can secretly tap data. The user is protected against the lock-in risks with OSS, so there are no security concerns.

Open source allows businesses to attract better talent. Most techies are well aware of open source and are aware that it is the future. They believe that it is a good investment. Many people enjoy working on their projects and having the ability to interact with others outside their business to develop solutions. Providing developers the flexibility and freedom to work as per their conditions can be an essential tool in attracting better talent.

Time has become a critical aspect when it comes to any business. Being able to deliver in time will eventually help in saving money. Open-source software enables businesses to gain speed. Open source platforms speed up the entire process by providing software enterprises solutions that they would need to stay competitive.
In recent years, with the help of open-source forums, you can work at a faster pace without having to wait for software upgrades. Nevertheless, you still need time to create and design a well-written code. An online community is the best resource for providing a quality product and achieving the speed your company wants. In such open-source areas, it is essential to maintain a reputation to help your business succeed in the long term.

OSS code is more secure as the community thoroughly reviews it. Open-source software solutions have various advantages, such as high-quality source code, stability, performance, and high-level security. Global communities ensure ongoing development and contribute to a high level of innovation. Security gaps are quickly tracked down and closed under the inspection of many eyes.
Speed, transparency, and reliability altogether play an essential part when it comes to security. To gain customer trust, security patches should be fixed quickly in no time. In time, it will build up the trust of customers for open-source software. In this way, the companies will be assured that they will find a quick fix to the bugs they encounter. They will no longer have to worry about this as the online community is keeping a watch.
Furthermore, proprietary software is no longer the first choice for businesses. The rate at which companies are ruling out proprietary software is quite notable. The main reason is the slow innovation pace that takes place with proprietary software. Businesses want to walk the extra mile, gain greater innovation speed, and ensure that they are not left behind in this highly competitive world. Therefore, OSS remains at the top of advancing technologies as a whole and helps businesses fulfill their needs as they evolve.
Open-source software focuses on developers; hence, these applications are built and documented for technical purposes. Most tech-savvy people will be able to understand its interface, making it an additional expense for companies. As non-technical background, people will not be able to play around with it; instead, companies will need to hire trainers.

As discussed above, the source code is free to edit. The problem arises when someone misuses this code for their benefit. While most of them use it to improve the software's performance, others could invite vulnerabilities like identity theft and malicious transfers.

Open source can give rise to compatibility issues. Some applications cannot support both open source software and proprietary software. Specialized third-party drivers are needed to fix such issues. These drivers are only available from the hardware manufacturer.

Although OSS does not contain any upfront costs, it can incur unexpected costs in training users, importing data, and setting up the required hardware. These hidden costs become an additional expense, especially when third-party support is needed for the implementation process.

Searching for required drivers for hardware components is not an easy task as the respective driver must be supporting the current operating system in use. Consequently, a new hardware component that is installed could fail to provide its performance.

When using OSS, it is usual to experience technical difficulties. Unlike proprietary software, open-source software does not offer extensive support. To fix this, people look for support services online. After all, open-source software is created by multiple developers; there is not just one person responsible for an error. The only option available is to contact the provider or depend on third-party support services.
In conclusion, like any other technology, Open Source Software has its risks, but its advantages outweigh these. Mainly because OSS is free to use, as a non-profit community develops it, it has some disadvantages too.
The decision to adopt open-source software should depend on various points, as we have seen above; the end-user company's size, the project's size, technical knowledge of the end users' developers, and more. Before deciding on open-source software, an end-user must thoroughly investigate what is available for their type of project in the market, their requirements, and their developers.
Also Read: 6 Best Open Source CRM Software for Small Businesses