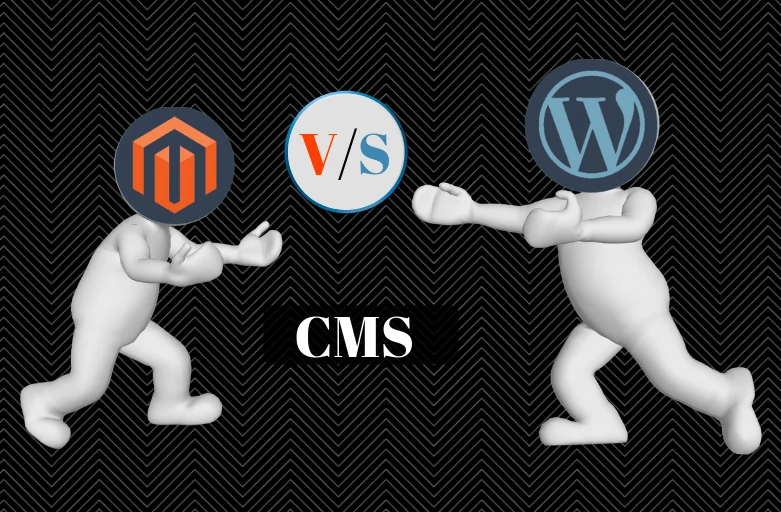 If you currently have a website, and you are looking to integrate some e-commerce functionality into it to grow your business, you may get confused by seeing the variety of options that are available to choose from. Now in this Blog, we highlight some of the differences of the two most popular CMS solutions – WordPress and Magento- to help you make the right decision in choosing the best CMS platform for your business.
WordPress & Magento are somewhere similar as both are SEO friendly, customizable, can use themes, and have an active online support community. They both are the best CMS platform that allow you to add, modify, and manage your content in the most simplified and the most effective way possible.
WordPress is considered to be the best CMS platform as well as an open source blogging platform. WordPress is also famous for its theme customisation and easy-to-embed plug-in architecture. A popular website named eBay uses Magento for its e-commerce website but use WordPress for their blog.
Now let's look at Magento. It is an open source eCommerce Platform which consists of dedicated eCommerce features. Magento also offers high-level of development and customisation functionality for a website.
WordPress v/s Magento: Difference between these CMS platforms
| Basis | WordPress | Magento |
| --- | --- | --- |
| Development | Setting up a website on WordPress is easy | In case of Magento, You need to have professional developers to develop your website |
| Hosting | Hosting your website on WordPress is less expensive as compared to Magento | Hosting your website on Magento is very expensive as compared to WordPress |
| Installation | Website installation on WordPress is easy | Website installation on Magento is more cumbersome |
| Customization | Website Customization is much easier on the WordPress | Website Customization is complex on the Magento |
| Maintenance | Website maintenance on WordPress is less and easier to do | A website created on Magento needs constant maintenance and attention |
| Usage | WordPress is widely used as an open source content management platform | Magento is a wholly open source e-commerce platform |
| Templates | WordPress is made up of multiple editable pages and posts | You need to create a new module to set up an additional CMS page templates |
| Security | Less Safe as compared to Magento | A More Safer Platform |
Click here to know some other best CMS platforms.
Conclusion
So, we conclude that Magento is the more safe, efficient and a recommended alternative to WordPress when it comes e-commerce, but it is also more complex and pretty expensive.
As WordPress continues to evolve, it will continue to provide a much reliable content marketing channel while Magento remains to be the ultimate choice for commencing e-commerce businesses.
Recommended For You:
Best CMS (Content Management System) Platforms in 2019
  What is Customer Analytics? Why is a Customer Analysis Important?