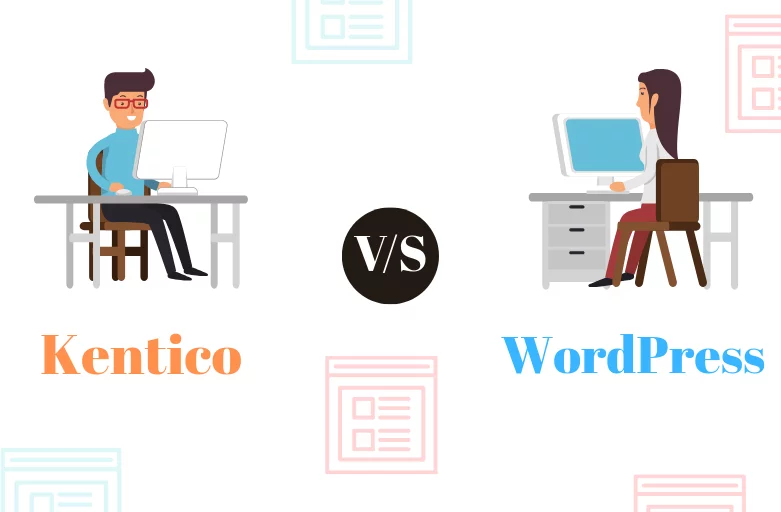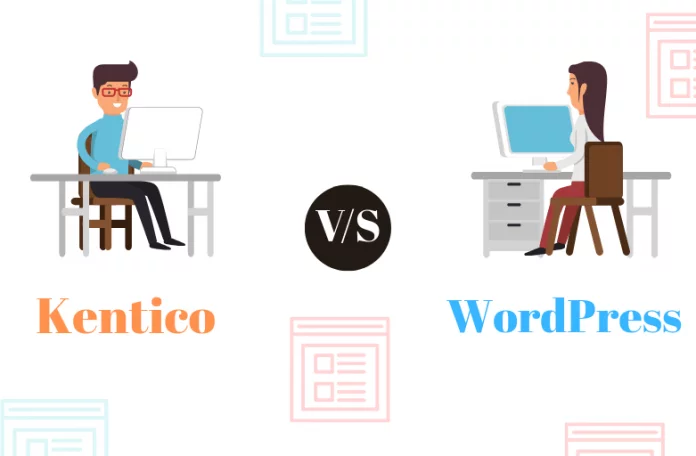 A content management system is an application that is used to manage your website with ease. It helps the user to make dynamic web pages instead of making traditional static web pages by doing the coding.
In short, with a CMS you can create, edit, and publish web pages to a website without even having the knowledge of CSS or HTML.
With a good content management system, you can update with web pages on your website without even putting the site down. Moreover, with the use of plug-ins, website creativity can be enhanced.
Kentico vs. WordPress: Comparison across Advantages & Disadvantages
Kentico and WordPress, both are very good CMS present in the market as of today. They both are highly customizable and offer many features. Now let us look at the difference between the two.
Kentico is an ASP.net based CMS and was designed as a content management system with an integrated marketing solution that is suitable for any business.
The workflow feature is also present in Kentico, which simplifies the users' work while creating the content.
Versatility is there in Kentico, due to the presence of various up class features.
Kentico is easy to use, which makes it scalable.
Integration with Salesforce is present with Kentico.
Reporting features are also present.
Highly customizable and adaptable according to the business.
A free trial is available for the users.
Security is high as it is a paid CMS.
Pricing: It is not a free CMS. A user has to pay a minimum amount of $4,499 for a Kentico CMS base, and it is just a one site license. This amount includes free maintenance, technical support, and upgrades.
Training: Though the content management system is easy to use at first, it requires proper training of the employees who will use it.
No chat support present.
Email marketing features of Kentico are not user-friendly.
Mostly serves the purpose of medium and large businesses.
WordPress is the most popular content management system present in the market.
This open-source CMS is highly customizable and is also available free of cost, which makes it top the list of best content management systems.
Based on MySQL and PHP, WordPress can be customized according to the need of the user.
It has easy to use interface; even a layman can use it.
Various themes and a full library of plugins are available for the users to customize pages.
Presence of online forums and communities to help users and providing solutions to various problems.
It contains multiple language support.
Can be used for different types of websites be it blogging, e-commerce, product-based, etc.
It is free of cost, which makes it very popular among freelancers.
Security is always a concern on WordPress due to the presence of various plugins and themes which are mostly by 3rd parties.
Very frequent updates on WordPress can hamper a website's functionality.
Website speed is also a concern on the website. Some of the themes of WordPress are very slow to load due to the presence of various unnecessary features and plugins used in them.
It may be suitable for low to medium scale websites but not for highly scalable websites.
Some WordPress themes do not contain SEO features and are not search engine friendly as well.
| Basis |  Kentico | WordPress |
| --- | --- | --- |
| Development | Website development is easy, but it requires trained users. | Website Development on WordPress is easy; even a layman can do. |
| Hosting | Hosting a website is slightly difficult as the user interface is totally different as compared to other content management systems. |  Website Hosting on WordPress is free. |
| Installation | Due to some additional features and steps, website installation is somewhat more tricky than WordPress. | The installation of a website in WordPress is easy. |
| Customization | Website customization is easier with pre-installed features. | Customization can be done mostly with 3rd party plugins. |
| Maintenance | Website maintenance is a tricky thing to do as it can only be done through a trained professional. | Website maintenance on WordPress is less and easier to do. |
| Usage | Kentico is not as popular as WordPress. But it is suitable for each and every type of site. | WordPress is used as an open-source content management platform worldwide. |
| Templates | Yes, templates are present, and even users can create a website using one. Know more here. | Multiple editable pages and posts are present. |
| Pricing | Kentico pricing starts from $4,499 for a basic CMS. | WordPress is open-source and free. |
| Presence of Online Communities | No | Yes |
| Availability on Devices | Only Windows and Web-based. | It is supported on Windows, iPhone/iPad/Mac, Web, and Android. |
| Suitability | Not popular among freelancers. | Popular among freelancers, mainly because it is free. |
| Live Support | Yes, it is present. | No, it is not present. |
| Security | Highly Secured | Low Security due to 3rd party plugins. |
Also, read about the Best CMS (Content Management System) Platforms in 2019
Well, Kentico CMS is highly scalable on its own. But, if it seems that it is not suitable for you anymore, you can easily migrate to any other CMS present in the market.
As of now, we'll show you how to migrate your website from Kentico CMS to everyone's favorite CMS i.e., WordPress.
Create your login account with cms2cms.com and get registered there.
Now, select Kentico as your CMS and enter the link of your website in the field provided.
In the next step, you can choose WordPress as your CMS and enter the link of your website there.
Here, you can also download the connection bridge or connection plugin and proceed.
Now, you need to select the data, you wish to transfer to your new WordPress website.
Once this is completed, you need to start your Demo migration.
After this, select some additional options if you need them, check on the insurance and also check as to how much this will be costing you.
Once this is done, Migrate!
A confirmation mail will be sent once you're done with migrating.
Here's a video to migrate your CMS:
Conclusion:
Kentico being a paid CMS that is highly scalable for businesses and its integration with Salesforce and other Automations makes it very useful to the companies and is highly secure.
On the other hand, our favorite CMS, WordPress is the winner in this comparison as it is popular due to being extremely user-friendly and of course free of cost which matters to most of us present out here.
Even the blog you're reading is hosted on a website created out of WordPress.
Recommended For You: