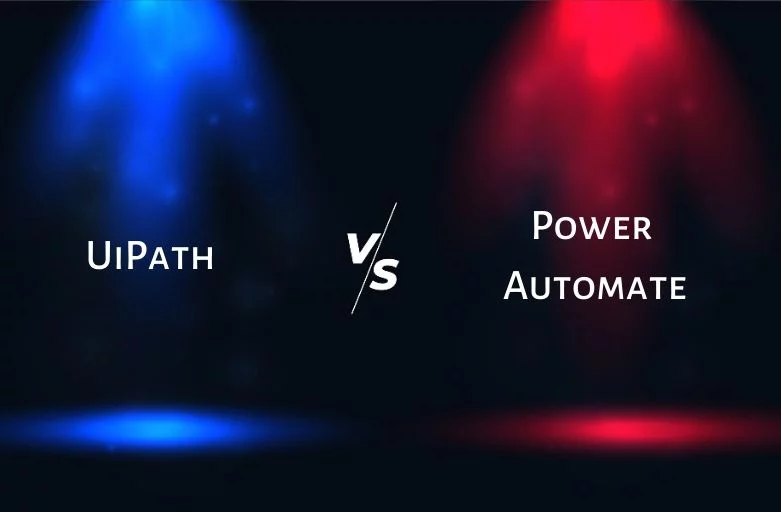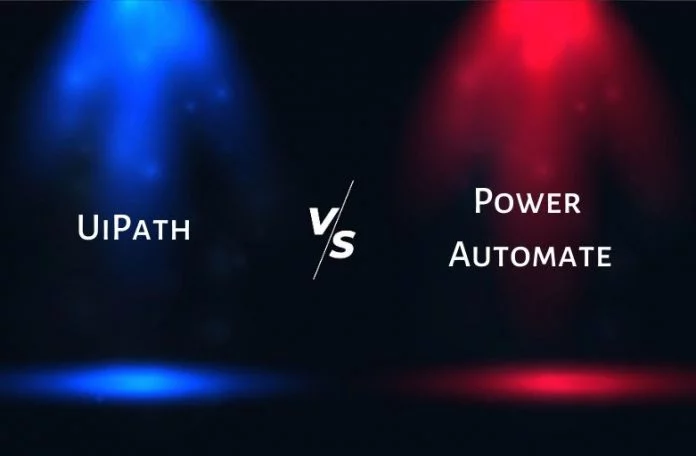 As per Gartner's report from last year, RPA was the fastest growing technology in the software market worldwide in 2018.
The technology giant Microsoft took note of this big time. At their annual conference of Microsoft Ignite in 2019, it was announced that Microsoft Flow is being renamed to Microsoft Power Automate.
Power Automate was announced to have been enhanced with new RPA capabilities. This was Microsoft's first step in the RPA market.
Now this year Microsoft has acquired Softmotive, an RPA platform. This will further enhance Power Automate's RPA capabilities.
To promote their native product further, Softmotive's WinAutomation Platform will be free for those who have already purchased Power Automate.
Now Power Automate's biggest competitor in the RPA market is none another than UiPath. UiPath acquired the maximum revenue in the RPA vertical last year.
We'll try and understand how the UiPath and Power Automate work and infer their comparison.
UiPath vs. Power Automate: How are the Two Different?
UiPath's software bots owing to their AI-enhanced skills can effectively bring reason into analyzing the data and finding automation opportunities.
Here are the key RPA features that come with UiPath:
Owing to its task and process mining technique, it finds out opportunities for automation and sets up the process with the maximum ROI.
Reasoning and analysis levels are enhanced with key features like document understanding, AI computer vision, and conversational understanding.
With UiPath, uncovering AI benefits of your bots becomes as easy as drag-and-drop. This is done easily by connecting with AI Fabric.
UiPath allows for your bots to have an understanding of constantly changing data by bringing invalidation from the human side.
Instances where UiPath can be beneficial for you:
Reviewing thousands of documents like job applications can get easier with UiPath's strong AI skills. NLP can help understand the list of skills mentioned most effectively.
Interacting with a customer can become extremely easy. The chatbot will be intelligent in adequate proportions to understand the nature of the customer's issue, grasp it, and then work towards its resolution by coordinating with other systems.
This would be just like how a human representative would do.
Validating different operational data against the company's policies and guidelines.
Pricing details for different services of UiPath are mentioned as below:
UiPath Studio: $2,000-$3,000 (Annual)
Orchestrator: $20,000 (Annual)
Attended Robot: $1,200 – $1,800 (Each)
Unattended Robot: $8,000 (Each)
A couple of reviews of UiPath from IT Central Station are as below:
Pro: Easy to understand as users have been able to pick on building up automation easily with the help of training videos.
Con: UiPath could enhance OCR related features.
Major technological giants like AWS, Google Cloud, Microsoft, ABBY, IBM, and more have taken to UiPath's services.
Also Read: Difference Between Blue Prism and UiPath
Power Automate is a tool to manage workflow automation. You can easily sync up multiple applications and services like SharePoint, Microsoft Team, Outlook.com, SQL Server, Power BI, and many more.
Here are the key features of Power Automate in accordance with its ability to create workflows:
Automated Flows: What does this workflow does is, it triggers a particular process into action when it comes across a set event.
Button Flows: These are also known as instant flows, which make a process go into motion upon the click of a button on your mobile device.
Scheduled Flows: Presetting the schedule for different tasks to be performed can get going with this flow. You can also set the recurrence of those tasks within a time period.
Business Process Flows: This workflow acts like a guide of steps that every user needs to adhere to. This creates a set of steps that need to be followed when handling a particular operation.
UI Flows: This is the most essential feature which enriches Power Automate with RPA ability. This flow can be used to keep an easy track of user actions and then reuse into action later without human intervention. This works well with both modern and legacy applications.
Going through Forrester's study, we can better understand the benefits that Power Automate (Note: This took into account other Power Apps as well) has brought to a lot of organizations:
The average cost to develop an application is reduced by 70%.
Power Automate was helpful in creating an optimal workflow but we're all the more helpful for remote workers.
A lot of operational tasks are completed in a quick time owing to the availability of quick information and that too in a format that can be incorporated in their work process.
Apps developed with Power Automate are likely to be more secured than otherwise.
There are two pricing models for Power Automate, which are as below:
Per-User Plan: This amounts to $15 and allows a user to create unlimited flows.
Per-User Plan with Attended RPA: This amounts to $40 and allows a user to do the above and additionally automate legacy applications through RPA and AI.
Per Flow Plan: This plan starts at $500 per month for five flows which can serve an unlimited number of users.
A couple of reviews of Power Automate from IT Central Station are as below:
Pro: Easy-to-use in deploying development projects.
Con: A user pointed out an issue with the detailing in the document process.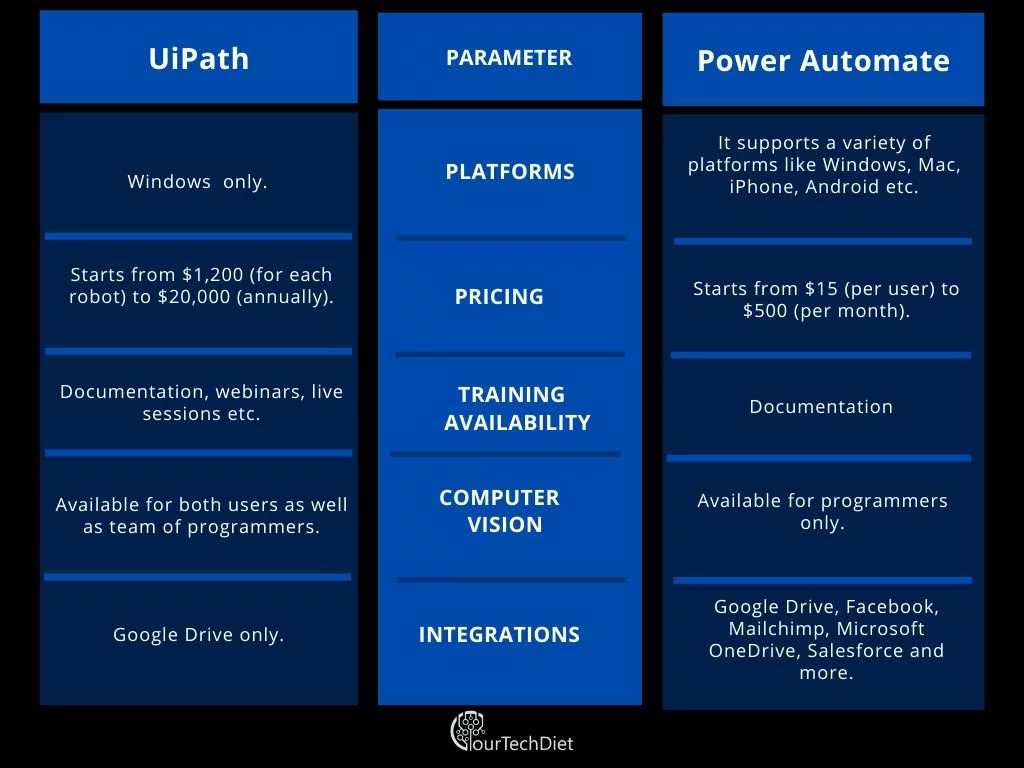 Conclusion
The operations, requirements, and pricing of both UiPath and Power Automate have been mentioned above very clearly.
UiPath is the old stalwart in this competition and Power Automate is the up and coming competitor coming from a big organization like Microsoft.
But then again, it totally depends upon a user/organization's need as to which particular product should they opt for.
Also Read: How can Robotic Process Automation Help in Finance Sector?