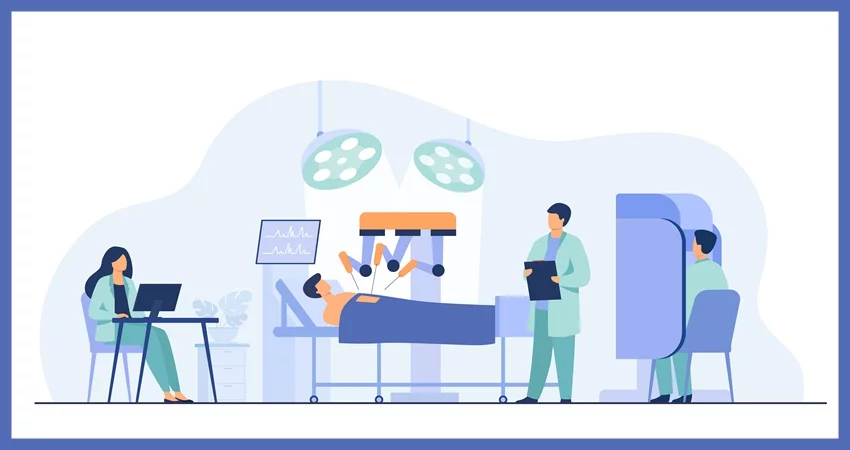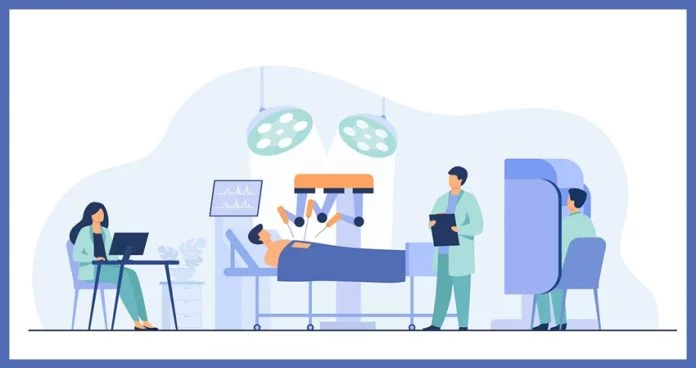 Before having a look at benefits of RPA in healthcare, let us understand RPA.
RPA is the fastest-growing section of the worldwide enterprise software market. Though, Robotic Process Automation (RPA) adoption in healthcare is not extensive yet. According to market studies, the RPA market looks forward to reaching $5bn by 2024.
Also, the healthcare segment is one of the fastest-growing sectors over this forecast period. Thus, this is not a surprise. Healthcare systems contain many rule-based processes and generate a large amount of data. RPA can help cure healthcare inefficiencies.
Benefits of RPA in Healthcare
What does RPA mean for the healthcare industry?
Healthcare systems contain various burdensome tasks. It demands a large number of resource allocations like claim management. Thus, this leads to high costs of operations and slow processes.
Leveraging the potential of automation and RPA, healthcare providers can address these issues. Also, this can make healthcare systems more efficient and healthcare processes faster. Thus, this improves patient satisfaction.
Why is RPA important in healthcare?
Healthcare is one of the most inefficient industries. Overcoming healthcare inefficiencies will contribute to better healthcare delivery.
Every industry has inefficiencies yet few face the challenges of the healthcare industry:
strict regulations about patient data
and fewer resources to deal with such regulations
Financial services also face high levels of regulations still banks have better access to capital. Also, it has higher levels of technology investment. Thus, the level of inefficiencies in healthcare is higher than in almost any other industry.
IT and healthcare services budgets all develop from healthcare providers' earnings. Automation projects approved by RPA can help providers avoid expensive and long-running projects. Thus, it can also help reap quick rewards, also permit them to channel more resources to healthcare delivery.
Automation in healthcare industry: 3 Real-World Examples
The use of AI in healthcare has been in the headlines for some time now. But it doesn't have to be about medical robots every time. There is much more to it. An excellent example is health care automation. Thus, automation in healthcare includes different software that improves efficiency in medical services.
This technology operates modern techniques and tools for efficiency reasons. Also, they help check the safety, security, and health status of your loved one from home.
Automation in healthcare examples:
Automated Scheduling and Managing Appointments
Without automation, scheduling staff must navigate many software systems and insurance portals. Hyper-automation describes the process while overcoming data errors along the way. Thus, it also limits reliance on human staff through integrated voice and chat-enabled AI assistants.
Example:
An eye care organization practiced the Nividous hyper-automation platform to automate patient scheduling. Also, practiced automating related data-handling tasks. It did so with RPA bots, chatbots, voice bots, and Business Process Management.
The result? Bots get scheduled higher than half of the new patient appointments. Thus, this automation enabled the healthcare provider to deliver a better customer experience. Therefore, reducing the scheduling burden on call center staff.
Automated Insurance Pre-authorization
Insurance pre-authorization is a labor-intensive process, needing expert employees. Practiced RPA bots with AI capabilities can complete pre-authorization through any insurance portal. Thus, this releases staff to focus on customer service.
Example:
An optometry company used Nividous smart bots to drive the portals of over 40 insurance providers. It excludes manual processes to enhance speed and accuracy at once.
Automated Insurance Claims Processing
Healthcare providers file billions of medical claims every year in the U.S. alone. RPA manages the rule-based and transactional tasks required in claims processing rapidly. Also, with total accuracy. While practicing hyper-automation for end-to-end processes can tackle any hospital's claims backlog. Thus, it enables staff to transition to more patient-focused tasks.
Example:
One leading specialty healthcare company practiced the Nividous intelligent automation platform. It automates claims processing, from patient data extraction and analysis to submission. Thus, this lowered manual work by 80% and cut operational costs by almost half.
How Does Automation Help Healthcare Services?
The arrival of modern tools and technologies is something to wonder about. These tools are to advance high-performance computing and the handling of volumes of data. Therefore, technology also has a remarkable impact on most operational and administrative areas. These are;
Faster Data Retrieval
Data generation is a crucial aspect of health care. EHR machines are to generate data in real-time. Thus, this will ease the data extraction process and enhance patient care. Moreover, health practitioners will quickly access the required information when needed.
Improved Ordering
The ordering process is challenging and time-consuming. With an HER machine, it demands many clicks to fulfill a single order. Yet, predictive AI technologies can improve efficiency in the ordering process.
Quicker Billing
The usage of AI in revenue applications can support regenerating bills quicker. This saves time when presenting the bill to patients, thus improving customer satisfaction.
Future of Automation in Healthcare
With more and more people exploring healthcare services, workers may not meet the rising demand for services. With health automation, doctors have extra time for patients.
Furthermore, it improves service delivery hence the provision of safer and timely services. Thus, automation in healthcare comes with various gains, and patients stand to benefit more. To get started on fulfilling healthcare automation, one needs to first think about patient engagement.
Top Benefits of RPA in Healthcare
Reducing costs
The price of RPA software is just a section of what healthcare providers pay to agents for hand-operated tasks. According to CAQH's study, the healthcare industry could save $13.3 billion if managing tasks get automated in the profits cycle.
Increased appointment turnout
Thanks to the automation of patient scheduling and appointment reminders given by the RPA bot. Due to this, the patients are less likely to forget their appointments. Thus, doctors provide care to more patients increasing productivity and efficiency.
Elimination of human error
In rules-based processes, bots implement rules that get programmed. If a programmer does not make an error while writing code, the rules-based processes will be error-free.
Better patient experience
The RPA bots streamline front-office support and make it easy for the patient support team to handle patient queries. RPA solution in the front and the back office enables healthcare providers to offer a higher quality of customer service.
Better employee satisfaction
Assigning one's workforce to tedious tasks may harm employee satisfaction. Thus, it can lead to higher employee turnover. Thus, this leads to more recruiting and onboarding through which employees are less productive.
Stronger billing cycle
Accounts payable and data digitization processes can get automated utilizing RPA. Thereby enhancing billing efficiency. By improving administrative processes, healthcare companies can significantly manage labor and financial resources.
Superior healthcare quality
It is perhaps the ultimate, all-encompassing advantage of implementing RPA in healthcare. Thus, automation improves patient satisfaction by saving time and eliminating the risk of human error.
Conclusion
Because of its proven outcomes on saving time and cutting down costs, it is likely to expect that RPA will transform the healthcare industry. Implementing RPA will enable healthcare professionals to focus on improving patient outcomes.
The power of the digital workforce to deliver fast and precise results analyzes huge amounts of medical data. It will make a significant contribution to widening access to care. Making the most out of RPA deployment in healthcare is a promising way to address current industry challenges.
Also Read:
RPA in Oil and Gas Sector
Intelligent Automation vs. RPA: Difference Between the Two