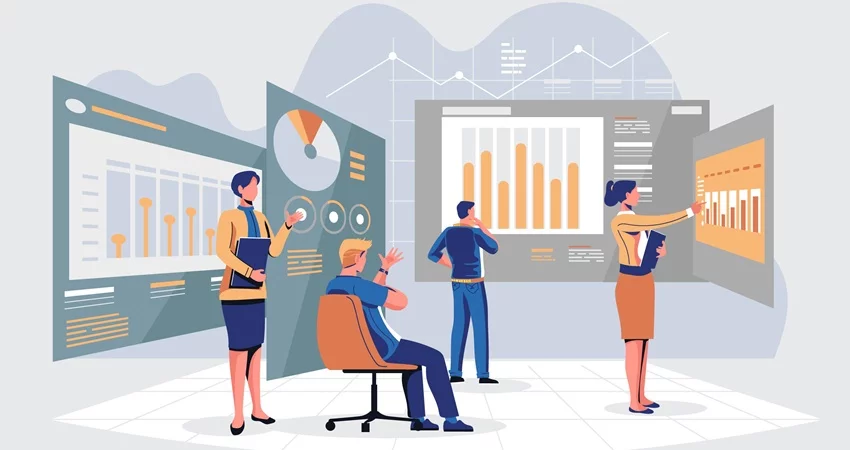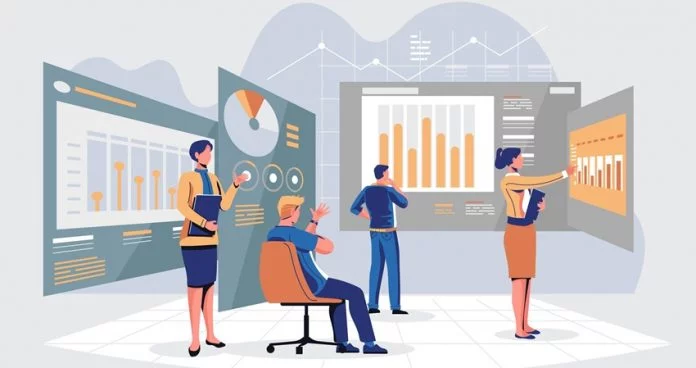 This article will study the top 8 ways business intelligence can improve your business. As we all know, any successful business needs to learn from the past, understand the present, and forecast its future. It will help to improve the growth rate and success of any business. Organizations have the business intelligence to take a view of their information and utilize it to make some changes and destroy the inefficiencies in their business.
Business intelligence helps companies know their previous historical and present data to make data-oriented decisions in different ways. Businesses with different ways can analyze client behavior and decisions and improve their profits. It also helps to compare, optimize and track data and performance to enhance profits and marketing trends.
BI helps to minimize the operation cost of business and increases the opportunities by potting business processes. Business intelligence can help you with the correct data that add significant value to your business. Here we will understand the critical ways businesses intelligence can improve your business.
Business intelligence essentially turns significant insights from enormous amounts of unstructured data into valuable business information. Many organizations are using BI tools without the proper knowledge of how to use them or what they can do with their information. They can utilize this data to improve operational effectiveness, boost productivity, and make strategic decisions.
BI provides information related to business trends, customer insights, and customer buying habits that helps them to put a great value on their business. BI tools provide valuable information resources that help them gain and achieve their business goals with the best decision-making strategies. It also may analyze and quantify customer interactions, such as voice calls, chat assistance, and emails, to learn consumer preferences, buying patterns, market trends, and other things. Indirectly all this information is used to maximize the customer conversion rate.
Business intelligence helps companies make the right decisions and send the correct data at the right time. BI is the combination of various tools, applications, and technologies. It helps companies collect, integrate, and analyze the information to make the best actionable business decisions. It generally contains:
Data mining
Analytical processing
Querying and reporting
Tableau states, "Business intelligence combines business analytics, data mining, data visualization, data tools and infrastructure, and best practices to help organizations make more data-driven decisions. In practice, you know you've got modern business intelligence when you have a comprehensive view of your organization's data and use that data to drive change, eliminate inefficiencies, and quickly adapt to market or supply changes. Modern BI solutions prioritize flexible self-service analysis, governed data on trusted platforms, empowered business users, and speed to insight".
The primary aim of business intelligence is to serve companies by helping the managers, executives, and business heads make business decisions. Multiple organizations use business intelligence to identify new opportunities, ideas, and cost-cutting purposes. It also helps to spot inefficient processes.
In today's business world, we can create, generate and store large amounts of data daily. If we use the data in a good way, it will reduce the expensive burden on the company. Due to the time-consuming nature of data analysis, it can occasionally be quite simple to lose all of the data. However, the entire data analysis process gets automated and improved with BI. It will enhance how businesses make decisions.
Business intelligence helps improve competitive intelligence with the help of the effective use of information. It helps turn rough data into actionable information that adds value to the organizational data. This allows businesses to make the best decisions with the help of information provided by business intelligence tools. Moreover, it also helps to improve market intelligence by identifying customer insights.
Many benefits of the business intelligence offers come from the motive it serves in today's businesses. Business intelligence has some expected benefits that companies can get with it. Following are the essential benefits of business intelligence:
Firstly, it accelerates the decision-making process
Secondly, Optimize internal business processes
Thirdly, it Increases the operational efficiency
Driving revenues
Gaining competitive advantages
Business intelligence helps to Identify the market trends
Spotting addressable business problems
Business intelligence can provide the best customer insights that can help you to increase your ROI by decreasing costs. Also, it spots the new trends required to maximize the revenue. Business intelligence can also help analyze the membership information and meeting data to find the segments.
BI Tools assist organizations in maintaining their competitiveness and increasing revenue sources. Companies of all sizes and phases use BI software to manage, evaluate, and showcase enterprise data. Each organization has unique characteristics and the appropriate business intelligence (BI) tools. It may often consider these characteristics and provides a comprehensive, tailored solution.
Data analytics of business intelligence software and the kind of analysis and organization needs will depend on its objectives. Data analytics may assist firms in describing their operations and investigating the causes of good or bad events. It helps generate the information they may not have access to and offers guidance on a potential course of action.
BI tools help to monitor key performance indicators and generate accurate reports. BI software tools like Tableau help businesses highlight new opportunities and establish new strategies to gain an advantage over their rivals. From B2B to B2C, these tools may also assist firms in understanding their customers' and clients' demands and improving their services.
Business intelligence offers the organization the business insights that help them improve ROI and reduce the operation cost. It delivers various advantages and applications for businesses. It also provides a quantitative analysis to calculate performance indicators and customer insights. BI helps companies to multiply their income.
According to Wikipedia, "Business intelligence (BI) comprises the strategies and technologies used by enterprises for the data analysis and management of business information. Common functions of business intelligence technologies include reporting, online analytical processing, analytics, dashboard development, data mining, process mining, complex event processing, business performance management, benchmarking, text mining, predictive analytics, and prescriptive analytics".
Below mentioned are the essential ways by which you can improve your business:
Data Integration
A firm must manage many operations, which results in a considerable amount of accumulated data. It is frequently kept in a variety of formats by different business solutions. Hence, it makes information analysis and performance reporting a difficult challenge for many companies. With business intelligence tools, companies can minimize the complexities of the generated data from different software.
BI tools help companies accumulate information and gather it from different software in various forms. Moreover, it can operate with your current software to provide a more comprehensive and all-encompassing perspective of a business' activities.
Enhances Competitive Intelligence
Business intelligence software supports organizations in gaining a competitive edge within an industry by providing in-depth insights and converting data into usable information. Further, BI solutions give the necessary information to people with the correct permissions. Moreover, it enables them to exploit it to gain an advantage over rivals.
Additionally, this information is very beneficial for businesses since it enables them to access and use information efficiently for their objectives, allowing them to make smarter decisions.
Improves Market Intelligence
Business intelligence helps you acquire and improve market intelligence and gives you a competitive edge. Market data is better analyzed with business intelligence software and technologies like the data management platform. Hence, it assists in finding client insights such as demographics, supports in analyzing their purchasing and activity habits, keeps track of their views, and helps forecast various market trends.
All of this information and data that can be accessed through BI sources is essential for businesses. Moreover, they enable managers and owners to plan their production units and increase their responsiveness to market changes and transformations.
Improves Social Media Intelligence
In this era of business, digital marketing is an essential tool for firms in the modern world. Moreover, social networking websites are being used by an expanding number of companies to communicate and connect with their target market.
Therefore, businesses can interact with and grow their audience using the specific analytics and insights business intelligence solutions provide regarding consumer behavior.
Improves Security
Data leaks are a possibility as a result of technology adoption. Security risks abound, particularly when it comes to corporate espionage or hacking. Businesses face a severe threat from this. Moreover, BI tools, on the other hand, are successfully fitted with cutting-edge security measures that assist in defending your company and its operations from various threats and hackers.
Increases Conversion Ratio
A business may make better strategic decisions with the sorted out and well-managed data that a business intelligence software delivers. BI solutions further measure and manage this information to give you important data about customers. Further, this will be done by evaluating customer data and engagement from phone calls, chats, and emails. Moreover, giving the customers what they want will ultimately help to enhance the total conversion percentage of any business.
Helps Align KPIs with Business Strategies
Aligning the key performance indicators is another essential function that a BI tool or software offers to a corporation's (KPI) key performance indicators. Therefore, an organization may be wasting a lot of crucial resources if it works on projects that aren't aligned with its overall corporate strategy.
A firm can concentrate on boosting performance in crucial business processes by using BI software. Therefore, it gives those KPIs that align with their current business strategies.
Helps save Money
The initial cost of installing business intelligence software may be a little high. On the other hand, it works well as a long-term cost-saving technique or solution. Many parts of a firm can be losing money or having their production hampered. Business intelligence technologies help a company lower expenses and boost productivity by assuring optimum operations.
Conclusion
In conclusion, today, businesses and organizations gather, handle, and store enormous volumes of data. If this information isn't used effectively, it becomes a tremendous expense. Hence, companies frequently run the risk of losing important information. However, businesses can benefit much from employing BI software, including increased productivity and streamlined solutions.
Also Read:
What is the Role of Blockchain in Business Intelligence?
Top 13 Business Intelligence Tools 2021